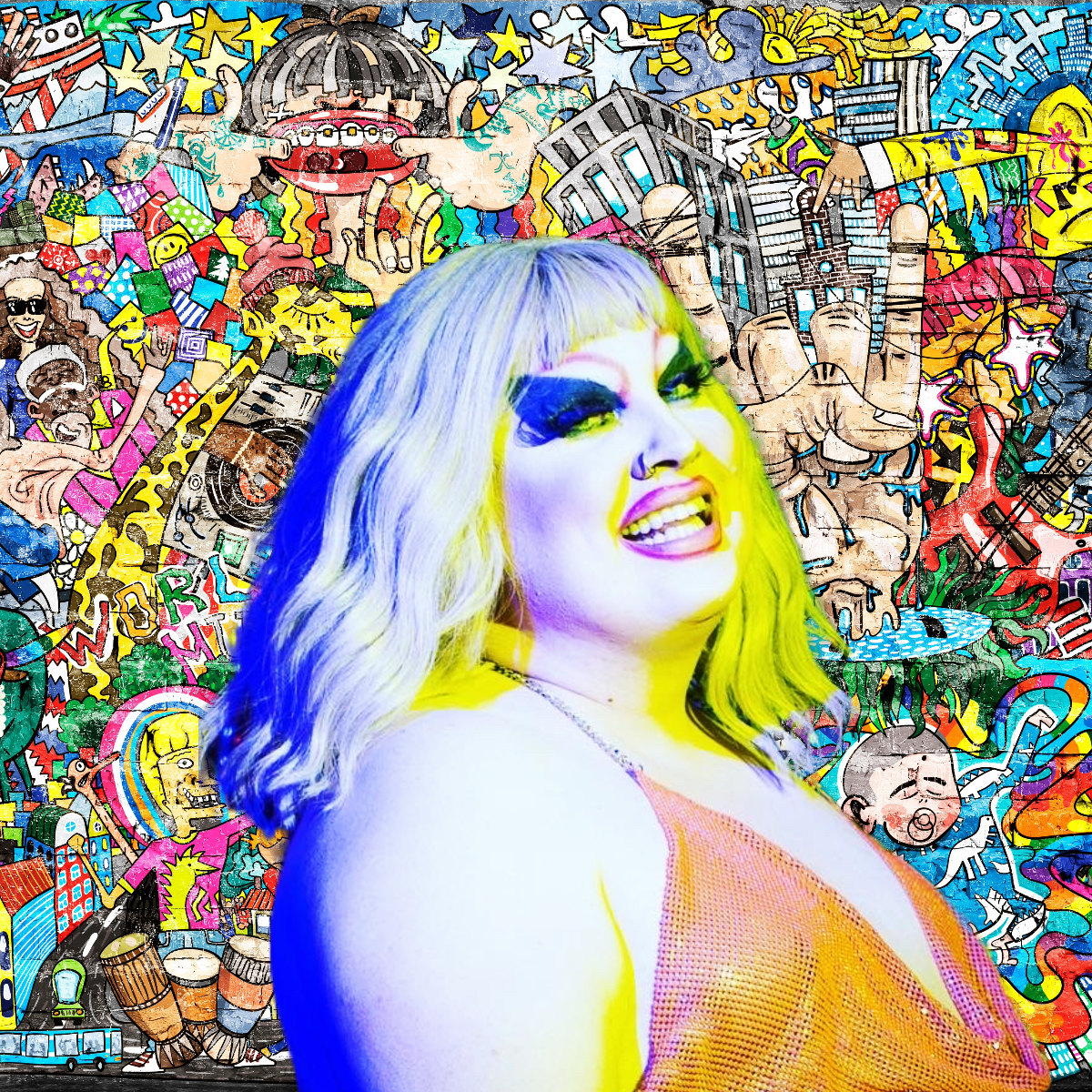 Athene Atlas is an Austrian singer, actress, performance artist and former radio showhost. She is a non-binary Transwoman and her pronouns are she/her. Her Grandfather was one of Brazils TV Pioneers and hosted a show teaching kids the English language. Her mum and aunt were both part of the show and her aunt is still one of the most famous actresses in Brazil. So one could say it runs in the blood.
Athene started acting and singing when she was 5 years old. She has been educated at Kids School of Vienna Conservatory (Kindersingschule des Konservatoriums der Stadt Wien). Because of her remarkable voice her teacher wanted her to be a Wiener Sängerknabe, but she was homesick and decided to stay with her family. At age 6 she performed for the first time in a kids play of Mary and Joseph. She acted in youth theatre and was leading actress in plays like Freiheit in Krähwinkel, Der Besuch der alten Dame or Biedermann und die Brandstifter.

In 2004 she stood in front of a camera for the first time. The movie (Bathroom) has been screened at Opernkino (Cinemagic) Vienna. In 2005 she knew she wanted to become a musical performer. So she took singing and acting lessons to get ready for auditioning at the most famous musical schools in Austria and Germany. Unfortunately she hadn't had enough money for auditioning everywhere she wanted to so she sadly had to give up her dream.

In 2007 she had a life changing experience at Fluc Wanne (VIE) where she performed in Drag for the first time. Ever since she collaborated with other performers of Viennas Drag and performance scene like Mutti (who put her in real Drag for the first time), her Drag sister Dutzi Ijsenhower, Sue Philis Baker, Doktor Domi Darf Das, Denice Bourbon, Patrick Lammer, Beri Sayici, and many, many more.

From 2011 to 2014 she was part of Jimmy und die Stricherjungs, a viennese trash pop project. They where even on tour throughout Europe and where main act on the big stage of Vienna Pride 2012. The band had one Album out.

From 2012 to 2015 she worked as a show host at Radio Energy Austria where she hosted the morning news as well as the club charts show. Afterwards she worked at a German Homeshopping network as a producer. In 2019 she co-commented the very last Lifeball alongside her dear friend and PULS 4-Host Dori Bauer.

In 2021 Athene Atlas came out as non-binary Transwoman. She started Hormone Replacement Therapy and started to take care of her mental health as well. Newspaper Heute had an article about her story battling with depression and burn-out.

In 2022 she was part of Slash Film Festival and shared stage alongside US-Drag Royalty Peaches Christ, who is the drag mother of Jinkx Monsoon and other viennese performers. She founded Club Atlas and began to host her own Drag events.

2023 Athene had the pleasure to host her own "Roast of Athene Atlas" at Marea Alta and read the other performers house down boots! She also performed at Sun Dutz Film Fest alongside her drag family with Dutzi Ijsenhower, Sue Philip Baker, Patrick Lammer and Dr. Domi Darf Das. They helped Dutzi release her first Sprudel called "Dutzante - Dutzis Frizzante".

Since May she hosts her "Familientreffen" for queer people and allies. They went to Prater amusement park , had a picnic, went to the zoo and came closer as a queer family. The idea is to be a family for those who don't have one.

In June 2023 she performed at brut (VIE) after Nestervals piece "Die Namenlosen", a play about queer people killed by the nazi regime. The after program was a huge success.

Athene Atlas declared herself as Mutti 2.0 to start a fight against right wing extremists and people who want to erase Drag and the queer community.